Top 10 Albums of 2013:
1) City and Colour -
The Hurry and the Harm
: This is my personal favorite this year for a lot of reasons. First of all, my fiance introduced me to City & Colour and then I took her to see him in concert this year in Central Park (which was wonderful - oh, and it's where I proposed to her too!). Anyways, the album itself is beautiful acoustic folk-rock with a tinge of dreamy americana. Dallas Greene's voice is something to behold and his songwriting, as always, is in absolute top form here.
2) Typhoon -
White Lighter
: I almost missed this release but was fortunate enough to have a friend recommend it to me a few months ago. It is the new music discovery that I am most excited about from this year. Aspects of this Portland, Oregon band remind me of Arcade Fire, Sufjan Stevens, and Bright Eyes. Well-worth your time and money.
3) The National -
Trouble Will Find Me
: This band just keeps getting better - and darker - with each new release. If you have never given the National a listen, this is a great place to start. This album is haunting, beautiful, and thoughtful from beginning to end.
4) Justin Timberlake -
The 20/20 Experience Vol. 1
: What? You're surprised to see me include a solo album from the former Mouseketeer and N'Sync member? Yeah, me too, but I offer no apology here. This is easily one of the most enjoyable and impressive art-pop records I have ever listened to, channeling Prince, Michael Jackson, and Stevie Wonder. One could easily use the album to teach a history of pop music from the last few decades. Keep 'em coming, JT.
5) Local Natives -
Hummingbird
: What do you get when you fuse some of the best elements of the Fleet Foxes, Arcade Fire, and My Morning Jacket? This brilliant album, which is nevertheless all their own sound. This is definitely a band worth watching and an album that merits repeated listens. I have a feeling that Local Natives are just getting started.
6) Sigur Ros -
Kveikur
: Having had the opportunity to see the album performed live earlier this summer (my third live experience with the band), I can't ignore this one for my list. It's more aggressive and darker than recent records by the band, but still just as gorgeous as ever. Few bands move me the way that Sigur Ros does with their ethereal walls of sound and angelic vocals.
7) Kacey Musgraves -
Same Trailer Different Park:
I know, this seems like an odd choice. But trust me - it's fantastic contemporary country music that should also appeal to listeners like me who normally prefer alt-country, folk, and Americana. The musicianship is solid and the songwriting catchy as hell - and edgier than your average Nashville country-pop song. Musgraves was the soundtrack of my cross-country drive from California to New Jersey in August.
8) John Mayer -
Paradise Valley
: This was also a road trip album for me in August, and as a long time Mayer fan, I have to say that this one works well. I doubt he will ever do something as brilliant as Continuum, but this comes close from another angle, blending folk, blues, pop, and country styles with his signature guitar playing and singing.
9) Kanye West -
Yeezus
: I've never enjoyed hip-hop very much, but Kanye's work has always fascinated me. A genius producer, talented rapper, and a wildly egotistical person, this album is easily his best. It is to hip-hop what Radiohead's Kid A was to rock over a decade ago, deconstructing the predictable, the cliches, and reinventing the genre itself.
10) Daft Punk -
Random Access Memory
: Not only have I included country, pop, and hip-hop in this year's best of list...I've included a disco/funk influenced electronic dance album! But seriously, here's another stroke of genius in music this year from a band that rarely has a misstep.
Honorable Mentions: Vampire Weekend -
Modern Vampires of the City,
James Blake -
Overgrown
, Phoenix -
Bankrupt!
, Arcade Fire -
Reflektor
, Civil Wars -
Civil Wars
Top 5 Films of 2013:
1)
12 Years a Slave
: Easily my favorite film of 2013. I haven't cried in a film as I did in this one in years - and even then, I can count on one hand how many times this has happened to me
ever
. The acting is astounding, the cinematography is stunning, and the story itself is simultaneously horrifying and deeply, profoundly moving.
2)
Captain Phillips:
With fairly high expectations due to the leading role by Tom Hanks, I have never been more surprised by how much I loved a film. The last 15 minutes of this fantastically entertaining film involves some of the most impressive acting I have ever seen in my life. Hanks is a genius, something I already firmly believed, but this film confirmed it yet again.
3)
The Butler
: I greatly appreciated the historical approach of this film, tracing the experience of a White House butler that is based on a true story. The film raises provocative questions about race and power and includes an excellent cast of actors playing different presidents.
4)
The Great Gatsby:
First of all, I loved the soundtrack. In fact, I haven't enjoyed a film's musical component this much in a very long time. Second, DeCaprio is in top form here, cementing him as one of my favorite actors. But this moving, romantic, and tragic story, while transformed quite a bit for the big screen from the classic book, is one that won't leave your mind for a long time after the film is over.
5)
The Way, Way Back:
What a surprise this was! Steve Carrell is extremely effective in this coming of age story - although every member of the cast are basically perfect for their roles. Very reminiscent of the related film Little Miss Sunshine, definitely make some time for this quirky drama-comedy.
Honorable Mentions:
Inside Llewyn Davis, Mud
,
Gravity,
About Time, Hunger Games 2
,
World War Z
Top 5 Reads of 2013: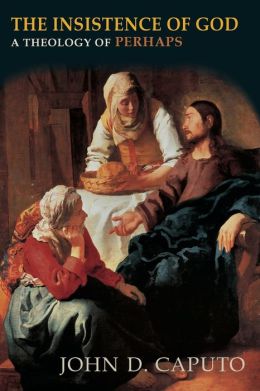 1)
The Insistence of God: A Theology of Perhaps
by John Caputo (2013): Let me be clear - as a former Philip Clayton student at Claremont, I'm a process theologian who likes metaphysics. Yet as a Catherine Keller student at Drew University, I'm somewhere in-between Clayton's scientific approach to theism and Caputo's deconstructive theology of the event. So while I prefer a theo-
poetics
that does not replace theo-
logy
(or ontology), I also love John Caputo's brand of radical theology that remains purely phenomenological in approach, particularly because I have always appreciated its resonance with process thought in a variety of ways. Plus, few theologians or philosophers write as well as Caputo does. So while I'm more Cobbian than Caputan, this new text from one of the so-called "3 JCs" is a must-read. Check out Homebrewed Christianity's recent blog tour on the book for more.
2)
Spirit, Qi, & the Multitude
by Hyo-Dong Lee (2013): Full disclosure - Lee is one of my professors at Drew. But his recent publication is so dense and intellectually impressive that I couldn't resist placing it high on the list. Fusing Neo-Confucian and Taoist thought with Western thinkers like Deleuze, Hegel, Keller, Whitehead, Hardt, and Negri, this text of comparative theology will probably require multiple readings to be absorbed by most readers.
3)
Anatheism: Returning to God After God
by Richard Kearney (2009): I read this book in the fall for a class at the beginning of my first semester at Drew. While a few years old at this point, it represents an important perspective in continental philosophical theology that has much in common with Caputo. Reading interreligiously as a philosopher, his notion of God as Stranger is extremely provocative and helpful for me.
4)
Theopoetic Folds: Philosophizing Multifariousness
ed. by Roland Faber & Jeremy Fackenthal (2013): Faber was a professor of mine at Claremont while Fackenthal was a PhD student friend of mine during my master's program. Both were helpful in my thinking about process theology, and this text is a great publication that includes fantastic essays that focus particularly on the process form of theopoetics. Aside from the editors, the contributors include Caputo, John Thatamanil, Catherine Keller, etc.
5)
Religion, Politics, & the Earth: The New Materialism
by Clayton Crockett & Jeff Robbins (2012): One of the most buzzed about books over the last year or so, definitely check this one out since it's now available in a more affordable paperback version. Robins and Crockett are doing great work in the field of radical theology and this is a great place to start if you're interested in that conversation.
Honorable Mentions:
Divine Multiplicity: Trinities, Diversities, & The Nature of Relation ed.
by Chris Boesel
,
The Idolatry of God
by Peter Rollins,
Dualities: A Theology of Difference
by Michelle Voss Roberts,
What We Talk About When We Talk About God
by Rob Bell,
Religions in the Making: Whitehead and the Wisdom Traditions of the World
ed. by John Cobb