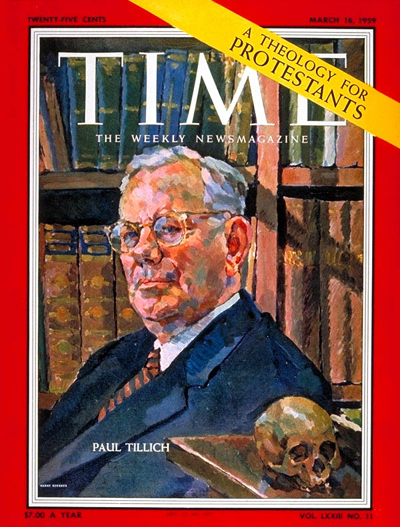 The German-American philosophical theologian Paul Tillich (1886-1985) was one of the great Western intellectuals of the 20th century. He was a prolific author, influential professor, charismatic Lutheran preacher, and a committed religious socialist who publicly and sharply criticized the Nazi movement, resulting in his dismissal from teaching at the University of Frankfurt in 1933 when Hitler came to power – a "blessing in disguise", as his biographer Marion Pauck notes. He soon relocated to Union Theological Seminary in New York at the invitation of Reinhold Niebuhr, became an American citizen, and later went on to teach at Harvard Divinity School and University of Chicago during his tremendously successful American teaching career.
Tillich is partly remembered as a respected philosopher in the existentialist tradition. His major influences include Kierkegaard, Dostoyevsky, Nietzsche, Schelling, Kähler, and Heidegger, although he was also deeply engaged with the philosophies of Plato, Plotinus, Aristotle, the Stoics, Kant, Marx, Spinoza, and Hegel. But more than anything, it is Tillich the Christian theologian who has remained especially important, clearly standing within the tradition of the great liberal theologian Friedrich Schleiermacher. He was also significantly influenced by the theologies of Augustine and Luther. Reinhold Niebuhr once called Tillich "a seminal theologian" and Georgia Harkness even claimed that "[w]hat Whitehead was to American philosophy, Tillich has been to American theology." Indeed, next to Karl Barth he is arguably the most significant Protestant theologian of the 20th century.
While there is not a "Tillichean" school of thought in quite the same way as one finds in process, liberation, or Barthian schools, Tillich's work has had an enormous impact on virtually all of the liberal or progressive theological traditions from his time down to the present. As we
will see in this series of six blog posts, his method of correlation, theory of symbols, doctrine of God as 'ground of being', and definition of religion as 'ultimate concern' are some of Tillich's most impressive ideas that have left a mark on not only Christian philosophical theology, but also on cultural and religious studies. In what follows, we will examine some of the major components of Tillich's thought, primarily considering his overarching method, and then concluding with a shorter consideration of Tillich's existential ontology and brief explanations of how he understands some of the major Christian doctrines.