I read a lot of books in 2011, but most of them were not recent publications. As such, my end of the year list of 2011 books is quite short, and I do not claim that it is a
comprehensive
list of the
best
books of the year. Just
great
ones I was able to make time to read alongside a heavy reading load in school. These five books were released this year (give or take a few months), and are quite accessible reads, all things considered:

The Predicament of Belief
by Philip Clayton and Steven Knapp:
Without a doubt, this is my favorite book of 2011 (although I admit a strong personal bias since I am a graduate student of Clayton's). Clayton and Knapp make a strong argument for a type of panentheism in dialogue with the most current understandings of science and trends in philosophy. They then argue for 'Christian minimalism', showing how believers can maintain an authentic, humble, yet vibrant faith in line with much traditional thinking about the Trinity, creation, Jesus, the Spirit, and eschatology. Not quite orthodox, but not radically liberal either. The theological program set forth by the authors is entirely balanced, rational, and persuasive. I started blogging through the book
here
,
here
, and
here
.
Eaarth: Making a Life on a Tough New Planet by Bill McKibben:
Ecology has been a big topic for me this year as I read widely in the growing field of eco-theology. Nobody explains the current situation of our endangered planet better than McKibben, a veteran environmental journalist and activist. This is his most recent book, a sober yet still optimistic call to radical changes in the way we live and organize society in an ecological age.
Process Theology: A Guide for the Perplexed by Bruce Epperly:
I wrote a review of this book on the blog that you can
read here.
This is my new favorite introductory text to process theology.
Why Marx Was Right by Terry Eagleton:
The final book I read this year, and while I don't agree with
everything
here, a great deal of it was very persuasive and eye-opening. Eagleton is a fantastic writer, well-known for his other books (which include thoroughly entertaining critiques of New Atheism and another of postmodernism). This is a great introduction to the philosophy of Karl Marx, but it would also be worth reading for the initiated Marxist
since Eagleton provides responses to ten of the most common objections to Marxism.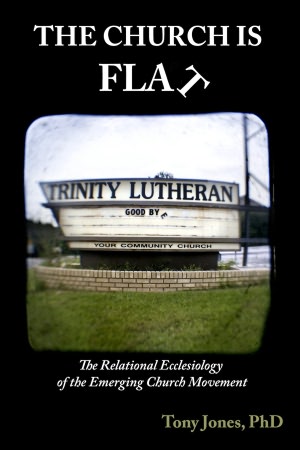 The Church is Flat by Tony Jones:
I also wrote a review of this book that you can
read here
. One of, if not
the
best introduction to the emergent church movement.
If you want to see other books I read this year, check out my Shelfari list (click on the virtual bookshelf at the top right corner of this page).